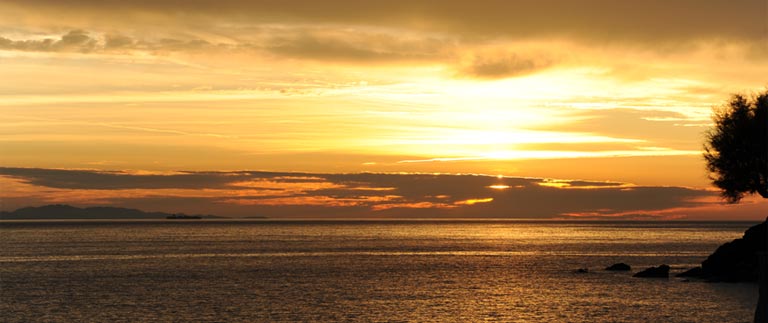 .. a village with a beautiful valley at its back, enclosed in a frame of sea and mountains. A village that, after centuries of iron mining, granite cutting and grape harvesting, gave in to tourism, but, despite this, probably more than any other place on the island, never lost its charm of having modernity alongside tradition.

Pomonte is a small fishing and farming village on the western side of the Island of Elba.
At its back lies a huge valley that goes right up to the top of Monte Capanne, rich in terraced vineyards, brooks, streams and small waterfalls.

Since many traces of mining works have been found in this valley that without a doubt was much thicker in the past, it is strongly believed that the origins of this village go as far back as Etruscan times. If we analyse the dialect, the names of the streets as well as those of its inhabitants, it is obvious that Pomonte also had close contacts with Corsica.

The coast consists of steep cliffs that drop sheer down to the sea. There are some small pebble beaches on the left of the village.

This part of the Island is famous above all because only a few metres from the shore, at a depth of only 16 metres, you can see the shipwreck of the "Elviscott", the cargo boat that sank in the seventies. Today it is a very popular attraction among skin divers.


If you enjoy walking and want to get to the nearby villages or the peak of Monte Capanne, just follow any of the paths that start off right in Pomonte and go along the top of the mountains.

In the village, and not far from the hotel, you will find a bank, a chemist's, restaurants, bars, a bakery, a mini-market, a newsagent's that also sells cigarettes, a post office, and medical assistance 24 hours a day.