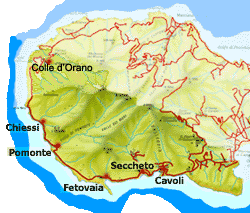 The Costa del Sole is an enchanting natural work of art: there's only one of its kind, ten kilometres of coastline with a view of the islands of Montecristo, Pianosa and Corsica; its numerous, fully equipped bays and beaches, cliffs at times sloping, at other times dropping sheer down to the sea; breathtaking panoramas and unforgettable sunsets....not only does all this make you feel very relaxed and at peace with yourself, it also means you will live your holiday to the full.

In the two villages of Chiessi and Pomonte, considered the jewels of the Costa del Sole, not only is the agricultural tradition with its terraced vineyards still very much alive, but you can also go on underwater expiditions in some of the most beautiful areas of the Mediterranean that are rich in sandbanks and shipwrecks.

But the Costa del Sole isn't just sea but perfumes too. Rosemary, lavender, helycrysum and Mediterranean bush all give off wonderful perfumes along the paths across the Tuscan Archipelago National Park up to the peak of Monte Capanne that overlooks one of the most beautiful and suggestive valleys on the island. And it is precisely across the vineyards in this area that you can see the remains of ancient settlements: remains of ancient Villanovan villages, Romanesque churches, remains of the Middle Ages, and, more recently, the granite "caprili", once used by goat herds, so typical of the Costa del Sole.

Our hotel is a member of the Costa del Sole Association founded in 1998 in order to promote one of the most beautiful parts of Elba, the south-western coast line, including the villages of Pomente, Chiessi, Seccheto, Colle d?Orano, as well as the tourist resorts of Cavoli and Fetovaia.

20 tourist complexes, above all hotels, are members of the Costa del Sole Association, the Viottolo Centro Escursioni, the Terre del Granito farm, the Acqua dell'Elba and Hydra - the Marine Science Institute in Fetovaia. A sports group of about 60 motor bikers, are also members.

The main aim of the Association is to re-discover and promote the roots of the local peasant culture, recover the local territory, protect the natural and cultural treasures and above all maintain the global harmony of the territory in collaboration with all the other Associations and the National Park of the Tuscan Archipelago.