The sea and the beaches in the
della Costa del Sole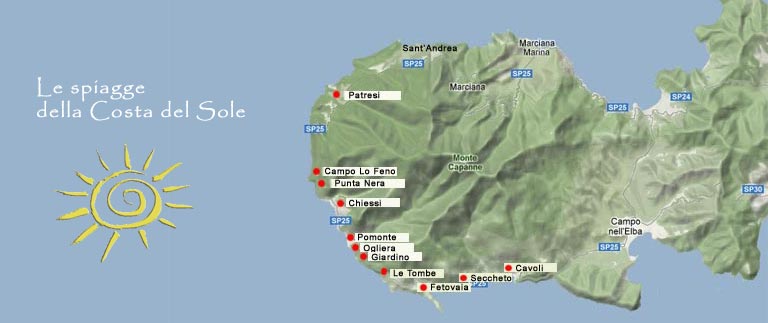 The western coast of the island is characterised by Monte Capanne which slopes right down to the sea, thus creating small, sand or pebble beaches, some of which you can reach only by sea.

Pomonte has a small bay facing west, and the sea here is shallow and crystal clear. A pleasant breeze blows across the beach at Pomonte, and we are happy to offer you sun beds and umbrellas if you want to sunbathe on the smooth rocks and stones.

There are several other beaches to the left of Pomonte (Quartiere, Ogliera), that you can get to by crossing a small, wooden bridge. Half of Quartiere beach (Punto Blu) is free while the other half has a bathing establishment with a bar, beach facilities, pedalos if you wish to go and see the shipwreck, and WC. You can get to the completely free Ogliera beach from here, equally beautiful but without a doubt much more rugged.
Pomonte is famous because just a few meters from the shore, next to the Ogliera rock, at a depth of only 16 meters, lies the ship wreck of the Elviscott, that sank in the seventies, today very popular with skin divers.


Here is a list of some of the beaches on the western coast that you can get to from Pomonte in just a few minutes, either by car or by boat.

Patresi Mare
Easy to reach both on foot and by car from the road starting at La Guardia. This beach, consisting mainly of large stones and coarse pebbles, has a lighthouse watching over it, and a bar. It is very easy to walk to this beach starting off at Colle d'Orano.

Campo Lo Feno
Series of very sunny beaches, some of which are connected enabling you to go from one to the other over long areas of small, round pebbles, made smooth by the waves. Ideal for those who have a boat and are looking for some privacy even if that means giving up on some comforts.

Punta Nera
Small, but very beautiful little cove easily seen from the main road above. This heavenly, very quiet area, very popular with pleasure boaters, is not possible to get to over land.


Chiessi
Only 2 km from Pomonte, the beach at this village is made up of two different parts: one part that consists of pebbles, and the sides that consist of smooth, flat slabs of granite that are even pleasant to sit or sunbathe on.

Le Rosse, il Giardino and Le Tombe
Le Rosse and Il Giardino: two unusual beaches thanks to their colour and the scenery. Although it is usually very hot here because the dark coloured shingles absorb the rays of the sun, there is always a gentle sea breeze. The suggestive, black rocks veined with quartz are all around. To get to these beaches you have to walk downhill for about 200 metres through Mediterranean bush starting from the car park at the top of the road.
Le Tombe: a 100 metre long, suggestive beach, perfect for those who are seeking peace and quiet, connected to the previous two. Start off at the roadside at the top of Le Tombe and follow the path downwards for about 200 metres.

Fetovaia
One of the island's most popular beaches, famous for its golden sand, crystal clear water, and the long, narrow piece of land that stretches out to the open sea, making it, however, also one of the busiest beaches in August. Our hotel has an agreement with the bathing establishment on this beach.


Le Piscine
Ideal for those who love sunbathing. The particular shape and position of the granite rocks has formed some natural "pools", filled naturally by the waves. You can easily reach the area by going down a 20 metre long path that starts off at the main road.

Seccheto
Small sandy beach with flat cliffs on either side, forming platforms and little natural pools that are perfect if children want to play.

Cavoli
Thanks to its fine sand and crystal clear water, this beach is one of the best known on the island, as well as one of the most popular among teenagers.